Kitchen and bathrooms are spaces where water usage is very high and the moisture in the air can cause mold growth and other issues. Therefore, choosing the right type of tile is of paramount importance.
Here are some tiles that are suitable for both bathrooms and kitchens:
Athangudi tiles
The Athangudi tiles are named after the place Athangudi, a small village in Sivaganga district of Tamil Nadu. These tiles are manufactured through a unique process using the local soil and are available in diverse pattern and colours. These tiles go well for backsplash of kitchen exhibiting traditional perspective to your contemporary spaces. They come with many advantages such as eco-friendly, cost-effective and best-suited for all weathers.
Porcelain Tiles
Porcelain tiles come with manifold advantages of being waterproof, very easy to clean, stylish and most importantly cost-effective. They come in many colours and designs that can brighten up space.
Ceramic Tiles
Ceramic tiles are a trending choice for kitchen and bathroom interiors as they are durable and can withstand the onslaught of water for a longer time. They are made from heated and cooled natural clay and they come in a varied range of colours, shapes, and textures.
Natural Stone
When it comes to anti-skid floors and durability, natural stone tiles are the best choice. They come in two variants, textured and non-textured. However, stone tiles are very expensive and require more maintenance when compared to porcelain and ceramic tiles.
Glass Tiles
Glass tiles are a popular choice for bathroom and kitchen as they come in a great many colours and textures. They usually come in the shapes of rectangles, coins and squares. They are easy to clean and to get a better grip the correct strength and texture of the tile should be determined during installations.
Large Metro Tiles
This type of tile is one of the preferred tile options as they are easy to install when compared to the smaller tiles. Large metro tiles are a cheaper choice when planning to cover a large area. When installing, it is a must that the edges of the tile should be straight.
Digitally Printed Tiles
Digitally printed tiles are the best option to add pattern and spunk to the room. They come with intricate and elaborate designs that create a striking and visually inspiring environment.
Installation of Tiles
Before embarking on the installation of the tiles in the kitchen and bathroom, it is essential to use tile adhesive and grout to ensure its proper fixation.
A tiled surface typically has to stand up to frequent contraction and expansion of the substrate and range of pressures, which can create severe stress on the bond between tiles and the substrate. Traditional sand & cement mortar is often unable to sustain its bond with tiles, under demanding circumstances.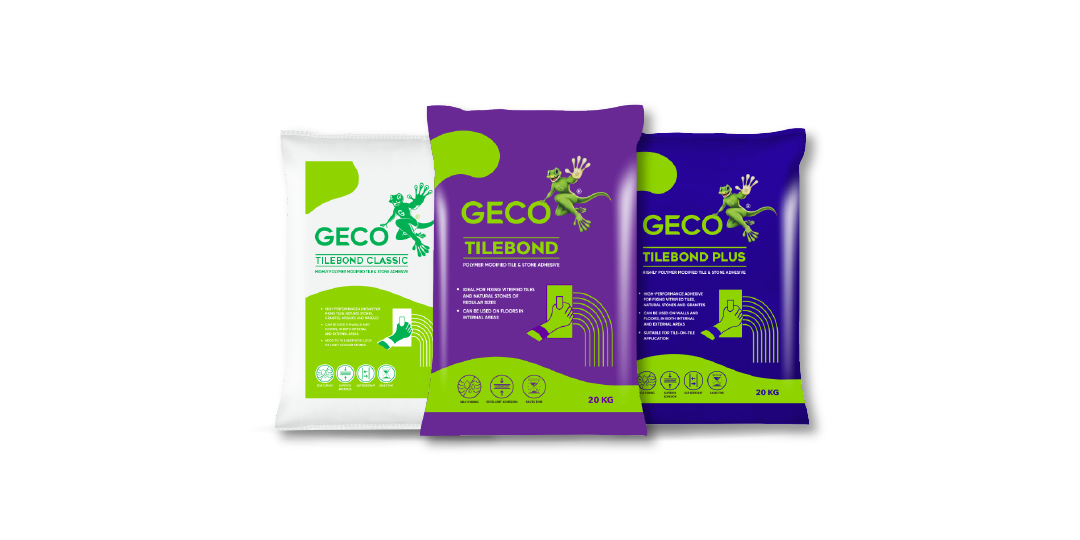 GECO TILEBOND is a polymer modified tile powder that needs to no curing thereby saving the time needed to fix tiles. GECO TILEBOND PLUS is a white/grey, high polymer modified cementitious tile adhesive suitable for fixing vitrified tiles and natural stones of regular size on walls and floors. The strong adhesion, water-resistant and slip-resistant properties of GECO TILEBOND and TILEBOND PLUS gives your tiles long-life improves the aesthetics.
Advantages of GECO TILEBOND over Sand and Cement
| | | |
| --- | --- | --- |
| Property | Sand and Cement | GECO Tilebond |
| Bonding | Weak | Strong |
| Tile fixing rate | Slow | Fast |
| Workability | Poor | Better |
| Bed Thickness | 15 to 40 mm, adds to weight of the structure | 1 to 6 mm, reduces weight of the structure |
| Adhesion | Will weaken over time | Very durable |
| Slippage | High | Non-slip |
Grouting of Joints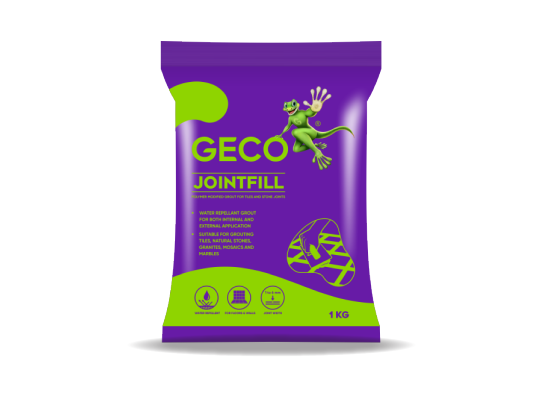 Grouting is the next step when fixing tiles as they fill the gaps between them. GECO JOINTFILL is a fine powder that not only fills the gap but also levels to even the surface. It is best to use to fill gaps of 1 to 6mm width.
It comes with the advantages of being water repellent, stain-resistant, and non-dusting finish. Also, it doesn't shrink which reduces re-tiling expenses. It is suitable for grouting glazed tiles, vitrified and fully vitrified tiles, marbles, mosaics, and natural stones in walls and floors.
These are some of the tiles that are an excellent fit for bathrooms and the kitchen. It is vital to choose a tile that can withstand the wear and tear of the daily usage and it should create a beautiful yet functional home.